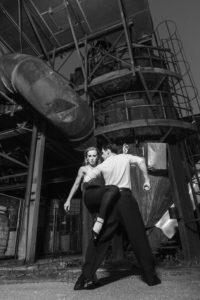 BACK BY POPULAR DEMAND: SARA GRDAN & IVAN TERRAZAS
Save the first weekend in November for another special tango event: November 3, 4 and 5, 2017
Details coming soon.
Not often happens that we are blessed with opportunities for learning from Buenos Aires.
The beginning of June brings to us a wonderfully talented couple from Buenos Aires: Alejandra Armenti and Daniel Juarez with their son, Valentin. I am very happy to have this opportunity here which I share equally with Geraldine of Tango Burnaby.
FIVE FABULOUS WORKSHOPS & GALA MILONGA with Maestros de Tango from Buenos Aires:
Daniel Juarez & Alejandra Armenti
Hosted by Gigi Goyer & Monica Monty
LOCATION: Let's Dance Studio, 2nd floor, 927 Granville St. Vancouver
EARLY BIRD PRICE: until May 25 $130 for whole weekend! or buy 3+ classes for $25.00 each
After May 25: Each workshop $30 Milonga $15
To register: tangoburnaby@gmail.com or 604 312-1488
or:
PayPal.Me/tangoburnabyBC
FIVE FABULOUS TANGO WORKSHOPS
Friday,  June 2
Workshop 1
7:30pm -8:45 pm • Walk, posture & embrace. Direction changes, communicating through the body & exploring sequences.
Workshop 2
9-10:15 pm • Figures in close embrace. Making complex figures from simple figures. Giro technique.
Saturday June 3
Workshop 3
1-2:15 pm • Technique for lapices & planeos for lead & follow. Partnering & musicality.
Workshop 4
2:30-3:45 pm • Adornos in pauses, Ochos & Giros for lead & follow.
Workshop 5
4-5:15 pm • Dissociation. Enrosques as adornment or figure for lead & follow, musicality.
Alejandra and Daniel will also be available for privates
Please enquire with Gigi 604 312 1488