COMING MARCH 2018:
LIBERTANGO WOMEN'S DAY with special guest JORGE OLGUIN

from Buenos Aires
Only one night: March 8, 2018
On March 8th, we celebrate Women's Day.
The beginning of March is charged with significance: birth, renewal, spring.
Allow me to be your host for one more time at milonga Libertango, in the beautiful hall of St. James House.
Location: St. James Hall at 3214 W 10th Ave
19:00 - 20:30 Class - Technique (by popular demand) workshop with Jorge Olguin
20:30 - 23:30 Milonga $10.00 / $5:00 (students with ID).
We celebrate women, spring, rebirth, new beginnings. We want to fill the hall with beautiful colours and flowers. Please dress for spring, we will take care of the flowers for all the women in attendance.
DJ: Tatiana
About Jorge:
Jorge Olguin: Dancer, choreographer and director of 'Unidos por el Tango" ballet academy. Jorge is a dancer with classical, tango and folklore training. His teaching career began in the early 1990s and his student body encompassed ages from 12 to adults.
His dancing career spans over several decades and brought him recognition as a competitor, performer and ultimately competition adjudicator.  Jorge won several notable tango competitions,  performed on countless stages and taught around the world as well as in his home country, Argentina.
I am very happy to share this special evening with him and with all of you, our tango community in Vancouver. 
PAST EVENTS:
HEART OF THE TANGO 
with 

PALOMA
&
MAXIMILIANO
Only two days: February 14th and 17th
Valentine weekend with a festive milonga and three fabulous workshops under the guidance of Paloma and Maximiliano, an inspiring Argentine tango couple recognized worldwide for their high quality in dance as well as for their wonderful teaching abilities.
Brought to you by Gigi (Tango Burnaby) & Monica (Libertango)
SCHEDULE for MILONGA + THREE WORKSHOPS
Wed. Feb 14 / Lochdale Hall, 490 Sperling Ave. Burnaby
• W1. 7:30-9pm  Technique for both roles: vertical disociation and spiral sensation. Rotation and control in ochos and turns
• MILONGA  9pm-midnight   $15 
Chocolate fountain, wine and door prizes; performance by Paloma and Maximiliano.
DJ: Marina and Tatiana
Sat Feb 17 / 202-927 Granville St, Vancouver:
W2. 2:15-3:45pm Turns and sacadas in open embrace. Complex and simple
W3. 4-5:30pm Milonga Class 
EARLY BIRD price before Sun, Feb 11, 2018: 
• FULL package: $100.00/person ( all classes + milonga )
• $30/person $50/couple / class
• DROP IN: $35/person (no couple discount)
HOSTS: Monica & Gigi.
To register or book PRIVATE LESSONS call: 604 312-1488 or email: tangoburnaby@gmail.com
About Paloma and Maximiliano:
With 20 years' experience in Stage & Salon tango, Paloma and Maximiliano inspire students to love tango, promoting connection and improvisation. They have competed, taught and performed around the world, winning numerous World Championships. More info about this gorgeous couple here: www.palomaymaximiliano.com
PAST EVENTS: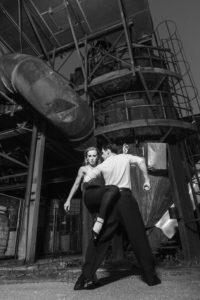 BACK BY POPULAR DEMAND:

SARA GRDAN & IVAN TERRAZAS
Vancouver, November 2, 3, 4, 5, 2017
Many of you already know and appreciate this tango powerhouse which is Ivan Terrazas and Sara Grdan.
Highly appreciated worldwide, they were very well received at my latest festival edition (www.lagarufa.com ) in the fall of 2016 and I remember the requests to bring them back here.
I am happy to say that, even though this year I cannot offer you a festival, I can help having them in Vancouver once again.
In a concerted effort, Steven, Joanna and myself, are presenting to you:
REMEMBRANZAS - Argentine tango past & present. Bridging the gap together
EVENT SCHEDULE AND COST:
Thursday November 2, 2017 Location: St. Mary – 3150 Ash Street, Vancouver
7:00pm – 8:15pm   W1
Energy Management: Hips and upper torso: how to manage energy walking and turning.
8:30pm – 11:30am La Milonga Tipica
Friday November 3, 2017 Location: St Michael – 2474 Prince Edward Street, Vancouver
8:00pm – 9:15pm   W2
Social Dancing: How to structure a song for social dancing for leaders and followers.
9:30pm – 10:45pm W3
Improvisation and Creativity: Rhythmic followers, melodic leaders: connect to your partner through the music.
Saturday November 4, 2017 Location: St Michael – 2474 Prince Edward Street, Vancouver
1:00pm – 2:15pm W4
Energy Management: Ranges of energy for slow, fast, smooth and sharp: using energy as a dimmer switch has never been so much fun.
2:30pm – 3:45pm W5
Social Dancing: Variations for leaders and followers.
8:00pm – 12:00am La Milonga Tipica Gala & Show
Sunday November 5, 2017 Location: St. Michael - 2474 Prince Edward Street, Vancouver
3:15pm – 4:30pm W6
Advanced Improvisation and Creativity: Adornos for leaders and  followers, keeping the connection, the when and how.
CLOSING DINNER - LOCATION TBA
PRICING:
Workshop CDN$40 each.
SAVE ! All 6 workshops CDN$210.
Thursday La Milonga Tipica CDN$10 per person  / SAVE! $5 for students with valid ID or W1 workshop participants.
Saturday Gala CDN$25 per person / SAVE! $15 for students with valid ID or workshop participants of 3 or more workshops.
For ADMISSION to milonga and group classes, please use this contact for Joanna:
T. 604 671 4363 / Email: stevenjoannatango@gmail.com
Paypal, E-transfer or Cash Accepted
For PRIVATE CLASS schedule and bookings, please contact me (Monica):
T. 604 809 3410 / Email: monica_hortensia@hotmail.com
---
PAST EVENTS:
Not often happens that we are blessed with opportunities for learning from Buenos Aires.
The beginning of June brings to us a wonderfully talented couple from Buenos Aires: Alejandra Armenti and Daniel Juarez with their son, Valentin. I am very happy to have this opportunity here which I share equally with Geraldine of Tango Burnaby.
FIVE FABULOUS WORKSHOPS & GALA MILONGA with Maestros de Tango from Buenos Aires:
Daniel Juarez & Alejandra Armenti
Hosted by Gigi Goyer & Monica Monty
LOCATION: Let's Dance Studio, 2nd floor, 927 Granville St. Vancouver
EARLY BIRD PRICE: until May 25 $130 for whole weekend! or buy 3+ classes for $25.00 each
After May 25: Each workshop $30 Milonga $15
To register: tangoburnaby@gmail.com or 604 312-1488
or:
PayPal.Me/tangoburnabyBC
FIVE FABULOUS TANGO WORKSHOPS
Friday,  June 2
Workshop 1
7:30pm -8:45 pm • Walk, posture & embrace. Direction changes, communicating through the body & exploring sequences.
Workshop 2
9-10:15 pm • Figures in close embrace. Making complex figures from simple figures. Giro technique.
Saturday June 3
Workshop 3
1-2:15 pm • Technique for lapices & planeos for lead & follow. Partnering & musicality.
Workshop 4
2:30-3:45 pm • Adornos in pauses, Ochos & Giros for lead & follow.
Workshop 5
4-5:15 pm • Dissociation. Enrosques as adornment or figure for lead & follow, musicality.
Alejandra and Daniel will also be available for privates
Please enquire with Gigi 604 312 1488